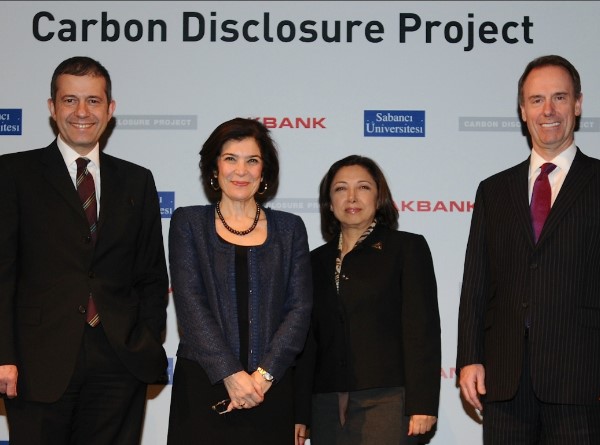 Carbon Disclosure Project (CDP) conducted by the Sabancı University Corporate Governance Forum, in its third year with the support of Akbank in Turkey since 2010. The Carbon Disclosure Project, which is an important step for companies to share their greenhouse gas emissions and climate change strategies with international corporate investors, is considered to be the most prestigious and widespread environmental initiative in the world.
CDP Turkey 2012 Report which is prepared by Sabancı University Carbon Disclosure Team with the support of Ernst & Young Turkey, includes the analysis of responses of the companies and main trends on climate change in Turkey. Number of the companies which responds to CDP Turkey 2012 Report whose preface is written by Deputy Prime Minister Ali Babacan, Akbank Chairman Suzan Sabancı Dinçer and the Carbon Disclosure Project CEO Paul Simpson is increased to 32 while it was 20 in 2011.
The increase in the number of companies included in the report was influenced not only by responding the companies that make up the ISE-100 index, but also by the responding companies that are not listed in the ISE-100 list, whether public or not.
At the CDP Turkey Meeting which 2012 Report announced in, after the opening speech of Akbank CEO Hakan Binbaşgil, Chairman of the Aviva Paul Abberley and Sabancı University Faculty Member and the CDP Turkey Director Melsa Ararat made a speech.
While Paul Abberley focused on the declaration "The Future We Want" which was published after the United Nations Rio 20+ Summit in Brazil and its impacts on sustainability and environment reporting systems, Melsa Ararat shared the results of CDP Turkey 2012 Report and CDP Turkey Carbon Disclosure and Performance Leaders.
While CDP Turkey Carbon Disclosure Leader winner Arçelik have the award by President Nihat Berker, Garanti Bank have the CDP Turkey 2012 Carbon Performance award. Award is presented by Dilek Çilingir, Chairman of the Audit Department of Ernst & Young Turkey, to Ebru Dildar Edin, Member of the Sustainability Committee of Garanti Bank and Assistant General Manager of Project Finance to which the Sustainability Team is affiliated.
Please click here to read the report.