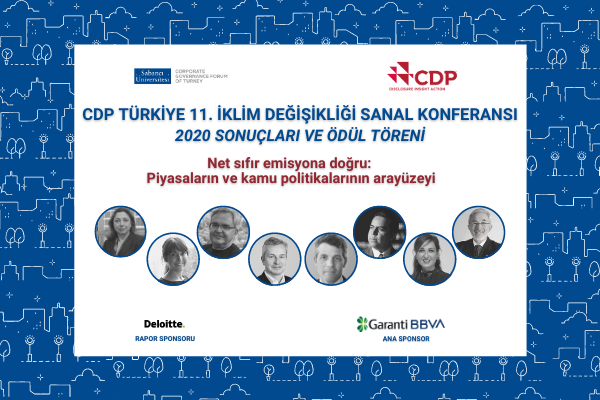 CDP Turkey 11th Climate Change Virtual Conference was virtually held on Wednesday, 31 March 2021 between 13:00-15:30 GMT.
The keynote speaker of the conference was Eric Usher, Head of the United Nations Environment Programme Finance Initiative. After his speech, CDP Turkey Projects Manager Mirhan Köroğlu Göğüş presented CDP Turkey 2020 results. Please click here to reach the report including these results.
Then, a panel discussion entitled "The role of markets & public policies to reach net-zero" took place under the moderation of Melsa Ararat, Director & Principal Researcher of Sabancı University Corporate Governance Forum; and with the participation of Alberto Carrillo Pineda, Science-Based Targets Director & Güven Sak, President, and CEO of TEPAV.
The conference came to an end with an award ceremony. The award ceremony started with the special message of Paul Dickinson, the Co-Founder & Executive Chair of CDP and it ended with the messages of this year's Global Leaders' representatives: Ebru Dildar Edin, Executive Vice President of Garanti BBVA & Murat Gigin, Chairman of Tekfen Holding.