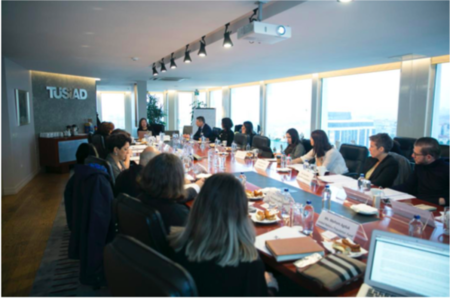 A dialogue conference of the "Business for Peace in the Greater Mediterranean Region," project which has been developed by Melsa Ararat, Sabancı University Corporate Governance Forum Director with support of the Hollings Center for International Dialogue, was held in Istanbul, Turkey on November 29, 2018. Number of academics, business and NGO representatives from Turkey, Netherland and Lebanon have attended the meeting; hosted by TUSIAD, the Turkish Industry and Business Association.
During the meeting, the idea of "Business Coalition for Peace" was discussed.  This coalition is based on the understanding that companies in fragile and conflict-affected countries can play an important role in the establishment of peace. TÜSİAD Secretary-General Bahadır Kaleağası made the opening speech of the roundtable. Kaleağası emphasized the importance of the meeting for the working groups and subcommittees of TÜSİAD. Melsa Ararat, Director of the Corporate Governance Forum at Sabancı University, reminded that the United Nations Sustainable Development Goals bring together the business world, governments and civil society around measurable targets. Michelle Westerman-Behaylo from Amsterdam University made a presentation at the meeting. In his presentation, he discussed why the business world should support peace. Also Arıkan Açar and Elif Çetin from Yaşar University gave a presentation entitled "Challenges around Peace and Security Stability in the Great Mediterranean Region".
Please click to see the final report of the roundtable.