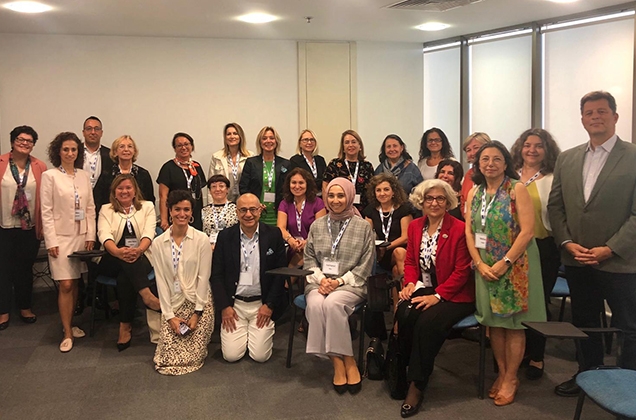 The "Board Membership Nomination Processes Search Conference" was held on Thursday, October 3, 2019 at Boyner Holding as part of the 30% Club Campaign conducted by the Sabancı University Corporate Governance Forum. The moderator of the event was Sabancı University Search Chair Oğuz Babüroğlu.
Attending were 25 independent woman directors who hold positions on the boards of publicly-traded companies in different sectors.
Boyner Holding Vice President of Human Resources Emek Yurdanur delivered introductory remarks. Yurdanur said, "We at Boyner Holding support every initiative for equal opportunity. I am a firm supporter of equal opportunity in our own companies as well. Forty percent of our employees are women. It is a challenge to find and retain woman employees in the retail sector. That is why we have positive promotion and wage prospects and offer equality of opportunity."
Melsa Ararat said Nomination Committees were non-functional
Sabancı University Corporate Governance Forum Director Melsa Ararat said that the event was the continuation of the previous search conference. Ararat explained that the 2018 conference was held with members of company boards that consisted solely of men, and the outcomes were shared with the public in the 2018 Independent Woman Directors Conference. 
Melsa Ararat said that the number of woman directors was not improving at the expected rate, continuing, "The inclusion of more independent woman directors on boards will ensure that companies are managed with consideration for the interests of various stakeholders, but the rate og improvement in Turkey is too slow. We decided to work on the matter of nomination since we have observed that non-functional nomination committees are a critical obstacle."
Ararat said that the outputs of the meeting would provide input to the EBRD project on increasing the ratio of woman directors on company boards. Ararat further explained that the 30% Club, under the direction of the Forum, is part of the project.
Oğuz Babüroğlu said that the focus points of the meeting would be the appointment process and experiences during board membership.